08:56, 05/06/2011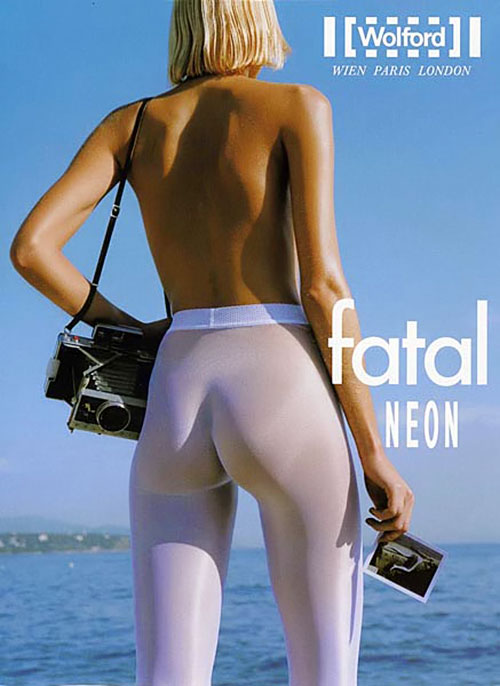 I thought I'd try to document some of the totems and fetishes that have been important to me as I've developed into the transgendered z-list sleb that I am today. An example of this would be those photos of Milla Jovovich by Ellen von Unwerth upon which I based one of my self portrait projects last year.
You know, the stuff that has thrilled, inspired or nourished my sense of the self-feminine and reminaed important and resonant to me through the years.
Newtonian mechanics
The late Helmut Newton's photographs of women are similar to von Unwerth's in a way. They explore and celebrate women's eroticism in a stark, beautiful and above all, truthful way.
There's an accusation levelled at Newton that his work can be leering and vouyeuristic but, largely speaking, I refute that.
His is a precise articulation of a woman's relationship with her own eroticism. Stripped bare, reduced to gleaming surfaces, folds, junctions and angles, Newton finds an abstraction in the subject that elevates it from titillation into art. Many women friends of mine are as excited and enthusiastic about Newton's work as I am. It touches me.
Action and reaction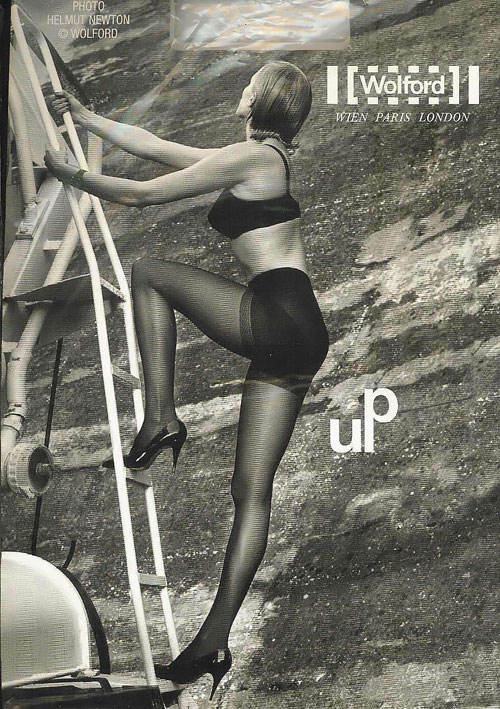 In the late 80s, Newton began a long lasting commission for the Austrian hosiery manufacturer Wolford to shoot images for the advertising and packaging of some of their range of tights and stockings. The image he created was striking. Impossibly long legged models, draped tortuosly in front of rugged landscapes, beautifully styled by legendary Harper's Bazaar and Vogue editor, Polly Mellen. They hardly ever showed their faces, ostensibly so the product could (quite literally) shine, but also to confer a most erotic sense of interrupted ceremony. They must be some of the most charged marketing images ever captured.
The effect they had on the brand and on the market was immense. A lot of hosiery, especially the opaque styles that Wolford was particularly known for, was, before then, regarded almost as an extension of the foundation garment. Wolford, I certainly remember when I was a child, was seen as a particularly middle aged, schoolmarmily frumpy brand.
No longer. Wolford's collaboration with Newton propelled not only them, but the whole hosiery industry, into the higher strata of fashion, where they've remained since. A true game changer then.
For me too. I found these objects impossibly thrilling as I was growing up, and saved up to buy an expensive pair of Fatal Neon opaques in black. These were Wolford's patented seamless tights. They felt amazing on, not least because the packaging conferred me kinship with those faceless bodies on the inlaid card wrap.
I ruined them with a hot rock, dropped carelessly onto my slick thigh at a drunken teenage party, and was secretly inconsolable.
I kept the packaging for a while but even that has been lost in some move or other.
But the memories and sensations live on, as does Helmut Newton's incomparable vision.
---
comments powered by

Disqus
---