11:04, 23/05/2009
Notes:
Originally published in 2002 on the pre-blog version of the draGnet (v3) and later re-presented on March - April 2006 on the draGnet 4.0, the previous incarnation of this weblog.
I was trawling through an archive hard disk the other day and found some pages from my old site. It's interesting looking at them and seeing how much I've changed. Judging from my output, it turns out not much really, the old site is full of writing and pictures, just like this one, though I like to think that at least my writing has moved on a bit since changing to a weblog from a bunch of static pages (at least the discipline of writing more regularly should have prompted that).
One thing that has changed is that I get a lot fewer advances from admirers than I used to. Were I the sensitive sort, I'd probably bang on about the debeautifying effects of age and all that, but really, I think the truth is that a bunch of dense writing like this tends to put off casual perusers of the transgendered curve.
Which is fine.
For the uninitiated, admirer is a bit of jargon commonly used in transgendered circles. It means a male person, usually identifying as hetero, who has a fascination and sexual attraction for transgendered females. We sometimes unfairly attribute stalkerish motives to them, but perhaps it's safe to go out on a limb and say that the admirer - previously only found buying us drinks in seedy bars in cities all over the world - is as grateful for the "stealth" attributes of the Internet as we trans people are, the way it allows us to exist in a murky and shadowy world, and yet live "normal" lives during daylight hours...
One of the interesting things I found mining through my old site was a big survey about admirers' attitudes towards trans people and sex - I sought out admirers in chat rooms, newsgroups and online communities devoted to transgendered pornography to find about 100 respondents. I thought it would be interesting to reprint this. Remember that this is before the days of "social" sites like flickr, Facebook and MySpace. So the section about Internet use is particularly dated.
However, reading it now, I still find some of the responses fascinating.
From here forward, the text and images are taken directly from the original 2002 article (with corrections for spelling etc). I've not corrected spelling or grammar on the actual respondents' quotes.
TG Admirers' Survey, 2002
It's more than just the "penile woman" angle. There's androgyny, the sissy thing, freedom / triumph over taboo, exhibitionism, glamor, fantasies of control and surrender, even forced femininity. Plus who knows what boys want from grrls better than a boy with a fine lingerie collection who can walk the walk?
- survey response
Like many transgendered people I present myself as the gender I identify with, in a strongly and provocatively sexual manner. I began to realise that perhaps a lot of why I present myself as transgendered is to do with the generation of reaction in the onlooker. In order to better understand myself, I though it would be a good thing to try and understand my admirer. So the survey was born.
The respondents' identities have of course been protected to ensure honest and forthright replies. Each of the questions was presented as multiple choice, with the option to fill in more detail if the respondent wished to do so.
Section 1: About the respondents
The first section was a simple contextualiser to establish who the respondents were...
Q1. PLEASE TELL US YOUR GENDER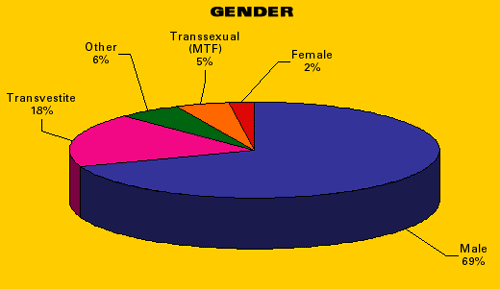 No surprise to find a majority of male respondents. The 6% of "others" included "gender outlaw" and "crossdresser".
Q2. HOW OLD ARE YOU?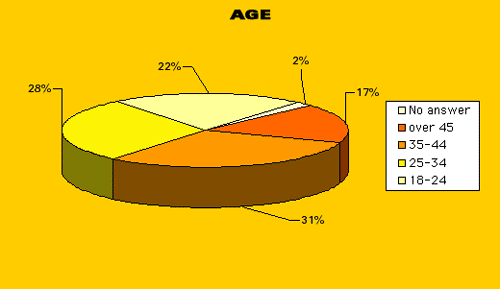 Q3. WHAT WORK DO YOU DO?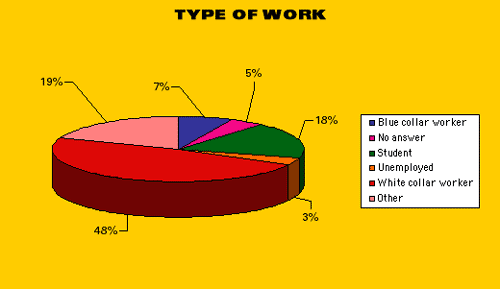 The 19% "others" included those in the armed forces, many who classified themselves as simply "self-employed". Two restauranteurs (!) and my personal favourite, "manager of a joinery shop"
Q4. WHERE ARE YOU?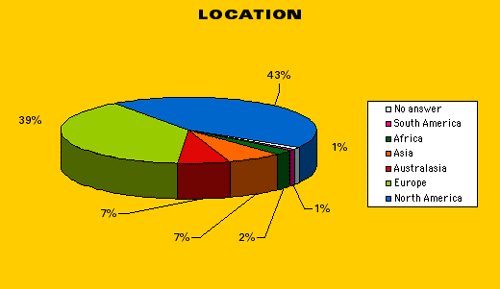 Predictably, a strong European and North American bias to the respondents
Section 2: Sexuality
The next section attempts to define the development of the respondent's sexual orientation...
Q5. WHAT DO YOU CONSIDER TO BE YOUR SEXUAL ORIENTATION?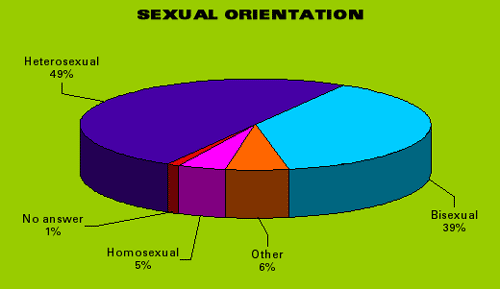 Interesting that many respondents saw themselves as "heterosexual". I guess the identification is with the female image, regardless of the content of the panties. "Others" included "gynandromorphophile" and "trisexual".
Many of the free comments for this question highlighted the category confusion:
"Note that my definition of hetero obviously encompasses t-girls!"

"Not heterosexual, but not gay either.. My ideal wife would be a tg/ts girl."

"Basically I consider myself straight BUT I do enjoy the female form with a cock attached too. So I guess that makes me bi"

"Men do nothing for me. But a feminine man in a dress is something else"

"While I guess I'm Bisexual I'm just attracted to feminine people. Big hairy dock workers dont really do it for me."
Sorry, big hairy dock workers.
Q6. WHEN DID YOU FIRST BECOME ATTRACTED TO TRANSGENDERED PEOPLE?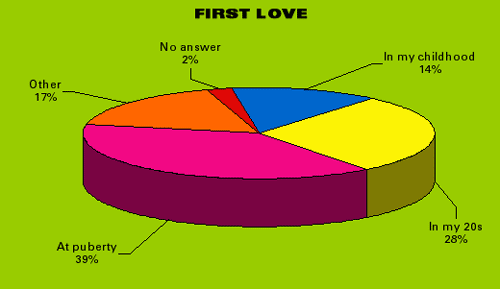 Fairly even spread. "Other" included "when I started on the Internet" and a very precise "19". Many of the free comments highlighted the onset of gender confusion in childhood as the spark:
"I have always been fascinated by beautiful women, fascinated by their clothes, their make-up, their hair. I watched a programme about men who dressed as women when I was very young, and remember a strange feeling in my gut, wanting to know more."

"When I was 13, my father bought me a book called "Teach Yourself Drawing." It it, I saw my first naked women. To my eyes, they looked somehow incomplete. So I added an erect penis to each one. When my father saw what I'd done, he went absolutely crazy."
Other respondents happened on their attraction more fortuitously:
"When I first met my first TG partner I did not know she was TG. It didn't really phase me, but I didn't really actively seek her out as a TS."

"By mistake I picked up a t/s unknowingly one night. That changed everything."
Q7. WOULD YOU SAY THAT YOUR DESIRE FOR TG'S MIGHT BE BASED ON THE FACT THAT YOU ARE TRANSGENDERED YOURSELF?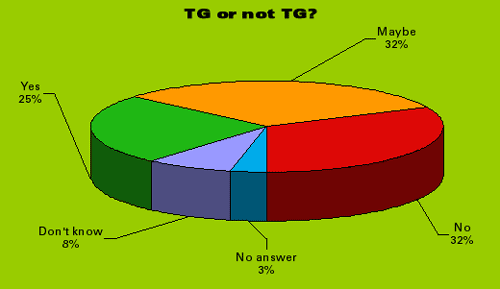 Pretty even split between the "no"s, the"yes"s and the curious.
Section 3: Relationship status
Did a lot of the respondents have loving relationships with tgirls? You're about to find out...*
Q8. HAVE YOU EVER HAD A TG PARTNER (EXCEPT A PROSTITUTE)?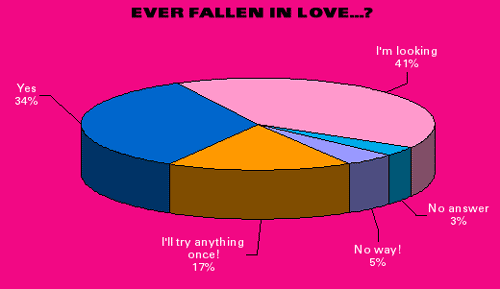 As many as a third of respondents had actually had the experience of a relationship with a non-professional t-girl, which was a surprise to me. I'd always pictured internet-based admirers as more of a "from a distance" type individual.
Q9. WAS YOUR RELATIONSHIP BESIDES ANOTHER MORE CONVENTIONAL RELATIONSHIP? i.e. WAS IT AN AFFAIR?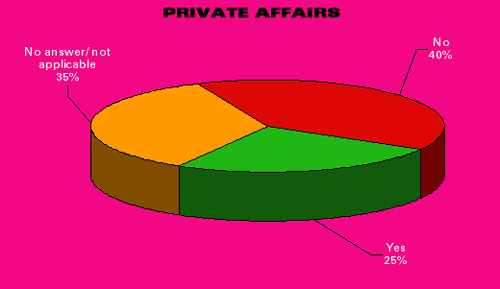 Again quite a surprise that those having exclusive relationships outnumbered those having a "bit on the side".
Q10. AND HOW LONG DID YOUR RELATIONSHIP(S) LAST?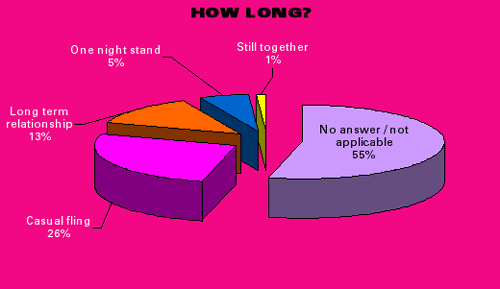 I suspect that this would be pretty similar for people in more conventional relationships
Q11. IF YOU HAVE NEVER HAD A TRANSGENDERED PARTNER, COULD YOU TELL US WHY?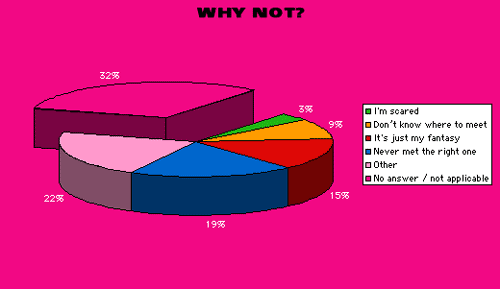 People found this one hard to answer. Many had never met a t*girl or "lived in the wrong place" where they were hard to find. Some comments were revealing:
"it seems like its very hard to find one thats not a prostitute"

"I am happily married and am scared of the risk of losing what I have"
Again, the category confusion arose:
"I had relationships with girls. But sex was always a disappointment to me. I've been engaged four times but each time life seemed to intervene so I never actually married. And then, while writing a story, one of my characters simply refused to be written as a woman, no matter what I tried. Then it hit me - she was a transsexual. I went onto the internet to do some research, found the newsgroups - and it all came flooding back from my childhood. I'm 49 now, and I feel I've wasted the best years of my life running down the wrong road..."
One answer was puzzling:
"I'm more interested in genetic girls" (why are you answering my survey then?)
Q12. IF IT WERE POSSIBLE, WOULD YOU MARRY AND LIVE WITH A TG PERSON?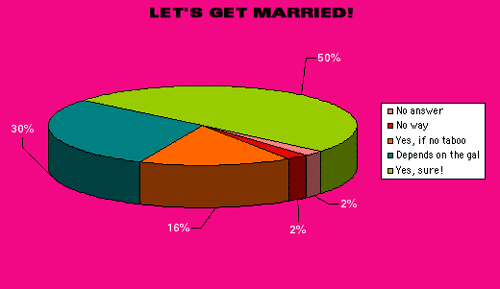 What a bunch of romantics!
Section 4: Sex
The money shot... Attitudes to and experience of sex with t-girls.
Q13. HAVE YOU EVER BEEN TO A CLUB OR BAR WHERE TG PEOPLE HANG OUT?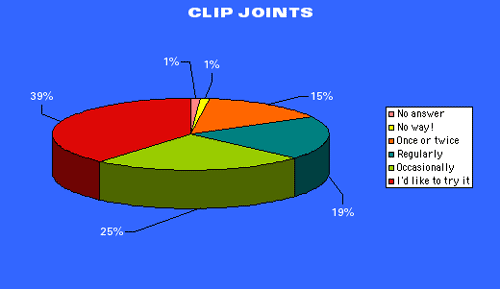 Many cited access and availability as a barrier:
"There are none near where I live".
Others dislkied the atmosphere in such places:
"I don't like the meat market aspect."
Q14. IF YOU GO TO SUCH PLACES, DO YOU GO WITH THE INTENTION OF PICKING UP A SEXUAL PARTNER?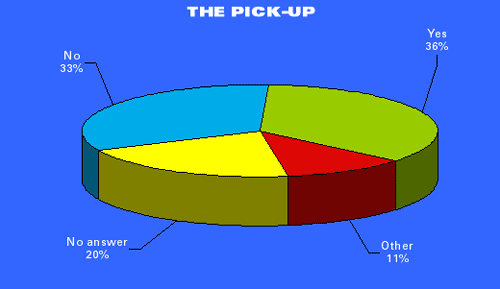 That's a pretty even split between those seeking sex ("Of course, why else go there. If it looks good and sexy, why not test the waters and party baby!!") and those going for other resaon ("It's just nice being round like minded people..."). There are potential pitfalls:
"Sure, I hope I meet someone special. But unfortunately, many are prostitutes, or alchoholic/drug/sexual addicts or are otherwise, 'unavailable'."

"Except for 2 times, I've never been successful. They seem to have a tendency to attract quite a following, and an outsider like me doesn't stand a chance of making a contact. Still, I do love to watch them."
For many, the approach was laissez-faire:
"I go out to enjoy myself and just have a good time, if I get layed along the way all the better."
Q15. HAVE YOU EVER PAID A TG PROSTITUTE FOR SEX?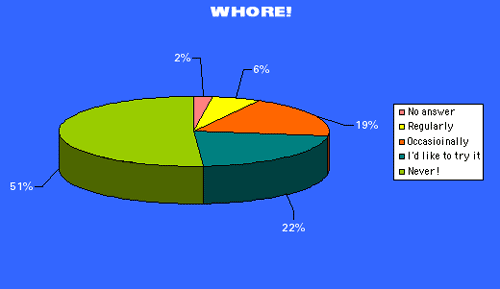 Over half had never had this experience and said they never would:
"I don't want to pay for sex, I want to make love, and you can't buy that"

"I don't go to prostitutes, TG or otherwise"

"Jeez... Next question!"
Of the rest, some quite honestly did not have any issue with it and did it a lot, and others were curious. My favourite answer came from someone who had never had sex with a prostitute and never intended to:
"I'm a good boy.. Either that or I have no money.. Just kidding, I'm a good boy."
Q16. HAVE YOU PERFORMED ORAL SEX WITH A TG PERSON (YOU MAY MAKE MULTIPLE SELECTIONS)?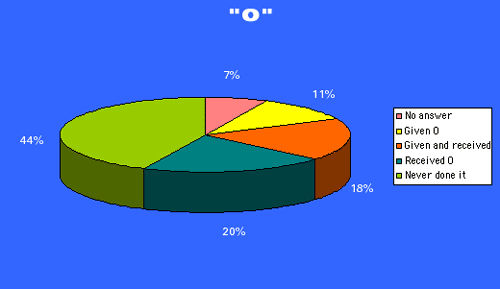 Most men seemed to prefer to receive oral sex from a t-girl, though many had also given. Many found this form of sex a tremendous turn on.
"It is my biggest fantasy"

"Damn, that would be nice ;)"
For others, their preferences were extremely precise:
"I'm kinda submissive, only gave oral to my girlfriends. They were mainly dominant, so a nice match up."

"I like to be in control, I don't like having my cock sucked though. I am more into romance, cuddling, mutual masturabation, and fucking with ME being the exclusive TOP."

"yes i sucked her cock then she jacked for me"
Q17. HAVE YOU HAD PENETRATIVE SEX WITH A TG PERSON (YOU MAY MAKE MULTIPLE SELECTIONS)?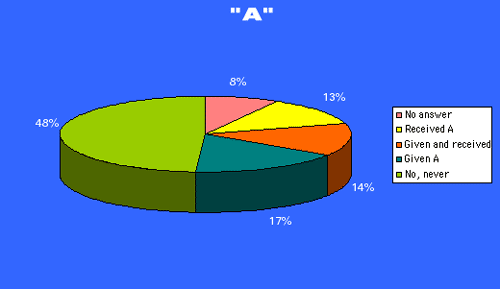 "I had a spanish t-girl one night in a club against the wall, banging her hot ass and grabbing on tightly."
Phew...!
Q18. WHAT OTHER FORMS OF SEX HAVE YOU PERFORMED WITH A TG PERSON (YOU MAY MAKE MULTIPLE SELECTIONS)?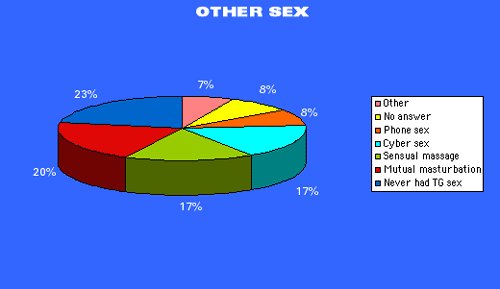 Sex toys, dildos, vibrators, bdsm, all featured strongly in the free catrgories. Many people just wanted as much as possible, as often as possible:
"everything you can imagine example sm, ns everythin just good sex!" "It was all good, baby!"

"Theres not much I hav'nt done."
Section 5: Porn
Questions to do with the use of pornographic materials among the respondents...
Q19. DO YOU ENJOY TRANSGENDERED PORNOGRAPHY OR EROTICA (ONLINE OR IN PRINT, IMAGES AND STORIES)?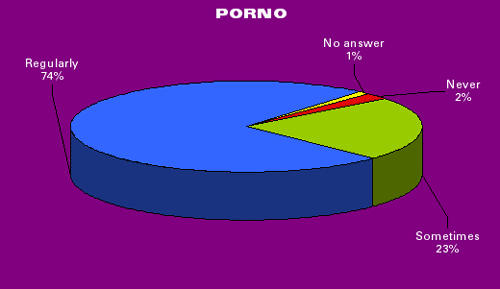 "I like looking at pictures on the internet, but it is a pathetic substitute for the real thing."

"I have a number of TG orientated pornographic magazines, i regularly surf the internet for TG porn, and enjoy TG pornographic literature."

"I like the fresh young sexy asian t-girls especially. They are so hot!"

"I find stories more erotic, it allows me to use my imagination more."

"yes it makes me want to call a prostitute."
Q20. DO YOU MASTURBATE TO EROTIC IMAGES OR STORIES INVOLVING TRANSGENDERED BEAUTIES?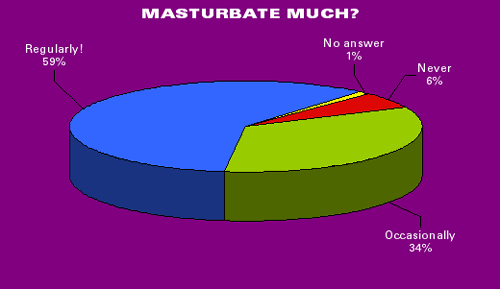 "I can't imagine a guy telling the truth when saying no to this question..."
Well put, I thought.
Q21. DO YOU KEEP A COLLECTION OF SUCH MATERIAL?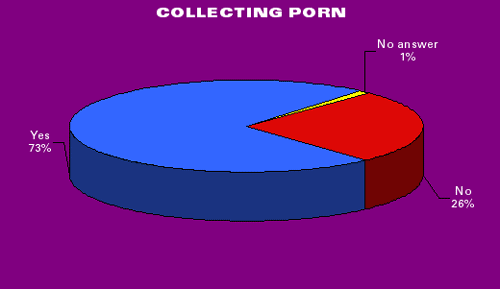 "on my computer at work, would not want the wife to find it on the home computer"

"yes I have maybe a thousand or more of pics and many movies."
Wow. That's a collection.
Q22. DID YOU OR WOULD YOU BUY THE MATERIAL (INCLUDING SUBSCRIPTIONS TO SHEMALE PAY SITES)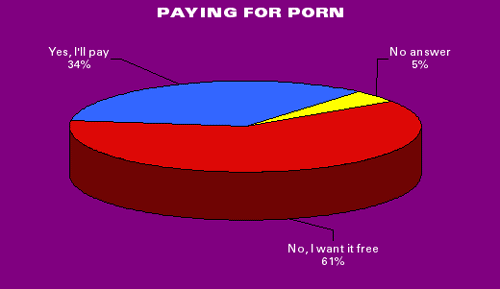 If I can editorialise for a moment here, I'd like to urge people who use pornography to consider that the more they're willing to pay the more likely that at least some money will get through to the t*girl sex worker at the end of the commercial chain.
There are some other issues to consider though:
"I don't find much quality erotica. The best sites are amatuer sites, I find."

"I'm a student so the money doesn't come ease, right now"

"dont trust anybody about credit cards"

"Come on, the computer is just a porno machine anyway"
On the other hand:
"As long as the material is not smutty in any way, or cheap, tasteless guff, I'm more than happy to pay."

"I would have a quandary about some sites, for example, I'd love to see more of Miss K, but I'm not sure if charging for it would be morally right..."
Q23. DO YOU VISIT T-GIRL OR SHEMALE WEBSITES?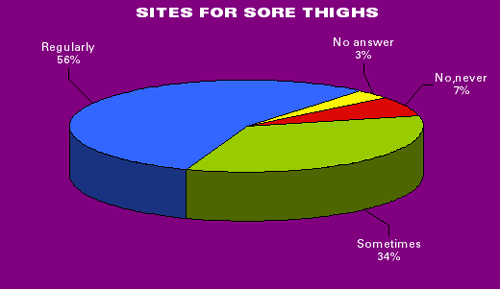 Many preferred to just go to Yahoo Groups and download the free pix. The top five named most popular sites (except mine - thanks guys & gals) were, in order:
URnotalone
Shemale Yum
Ladyboy-Ladyboy
Vicki René's Prettiest of the Pretty
=Aubrey's Place
=Bob's T-Girls
Section 6: Preferences
What about a tgirl makes you most hot?
Q24. WHAT ETHNIC TYPE DO YOU PREFER?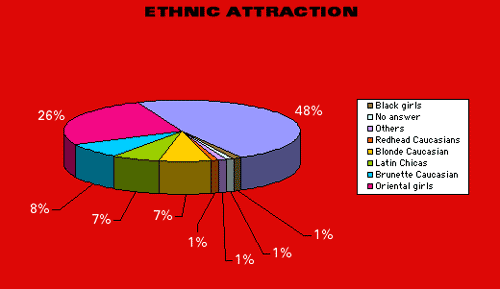 The biggest named preference was for Oriental t*girls, which may have something to do with me, or not. But mostly one respndent summed things up:
"There is beauty in every race..."
Q25. PHYSICALLY WHAT KIND OF T*GIRL BODY DO YOU PREFER?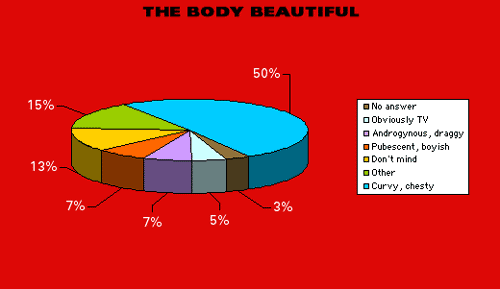 Big lean towards the "fully formed" female shaped t*girl.
Q26. SNIP?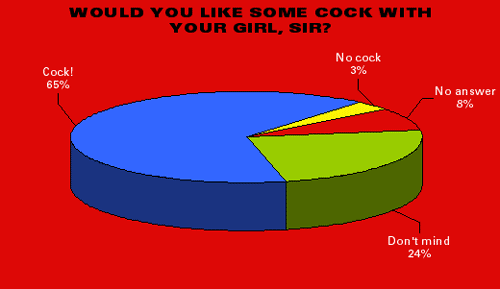 Resoundingly in favour of pre-op t*girls as those that most float my readers' boats.Various reasons were given:
"man made pusssies are not like the real thing. I'll take a girl with a real dick over a girl with a man made pussy."

"It's what I'm attracted to... the obvious attempt to conceal a penis."

"as long as the cock is small and feminine and beautiful to look at."

"Chicks with nice dicks rock!."
Section 7: Why?
Q27. OVERALL, WHAT DO YOU FIND MOST ATTRACTIVE AND EROTIC ABOUT T-GIRLS?
This open question led to a huge number of long replies. One key theme was that fact that t*girls are not shy about expressing what many saw as being old-fashioned feminine virtues:
"They tend to emphasize their femininity. They do not try to hide it. They work very hard at being women. and do their best at pleasing a man as a woman."

"The exaggerated femininity. The willingness to embrace this feminine beauty."

"I think it is because not only do they look very feminine and beautiful, but they ACT like I wish girls would act...feminine! Tgirls blossom with feminine sensuality and most guys wish that real girls would be half as sensually feminine. "
Others were more drawn by the physicality and immediacy of t*girl sex, as well as the delicious contradiction:
"there is somthing very sexy about being screwed with a pair of breasts in your face at the same time."

"The fact that they have an orifice that i can enter and a cock."

"the fact they cross both sides of the gender and sexual divide. They can be voracious sexually yet feminine and sexy like a woman. They often enjoy anal and oral, can give and receive…"

"The image of a beautiful woman who underneath everything is really a man. The thought of kissing your beautiful lips and kissing up your beautiful legs, up your thighs and to finally reach my surprise and reward - to satisfy you completely with my mouth and to taste your beauty."
Yet more praised t*girls for their courage and commitment to their illusion and life choice:
"I think I find the attempt to look like a girl the most attractive attribute about t-girls. The amount of time and effort that goes into the transformation."

"That they have to go to so much, to become so beautiful, and when in bed looking at this beautiful Tgirl beside you, I can't help thinking, that it has to be a very special girl beside you"

"I find them most exciting when they go to great lengths to feminize themselves, their hairstyle, breasts, clothes, and makeup, etc. I am fascinated by their courage. I think they are exciting because they are risking so much. It makes sex very intense."
Summary
I think I was surprised by the quality and sensitivity of the responses to my survey.
To close, I asked people if they had anything to add. While most felt that they had said enough, I was drawn to a few of the responses, for various reasons:
"I think that guys who are effeminate are not "natures mistakes" but are in fact very special - practically spiritual - beings. They tend to be very sensitive and very aware compared to other "normal" people. I only wish that more were emotionally available to sincere guys like me. Many are so out of control, perhaps because they are forced to live "outside" normal society."

"When they say, "Best of both worlds", it is sooo totally the truth. You have on the one hand a beautiful creature capable of an almost spiritual relationship, and on the other the equipment for going to the bathroom comfortably while camping"

"I think there is a real sexual revolution going on right now, it's a Transgedered Revolution!"

"I wish Miss K lived in Toronto."
I don't want to draw any big sweeping conclusions but I would like to thank everyone who took part, for their time and their effort. I hope the results are of interest to everyone.
---
comments powered by

Disqus
---